Message From Chief Carter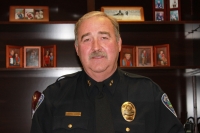 Chief Avin Carter
Welcome to the River Oaks Police Department web site.

The River Oaks Police Dept was established February 14th, 1949, two years after the city was incorporated in 1947. My family moved to River Oaks in 1961 where I graduated from Castleberry ISD in 1972. I have been a part of this community for over 50 years and a member of the River Oaks Police Department for 30 years (1982-2012). River Oaks has had a huge influence on my life and has played a big role of who I am. It has always been important to me and the River Oaks Police Dept to protect the citizens of our community from harm, protect their property from theft or destruction and to preserve the Constitutional rights of every citizen. It is my goal and the goal of the River Oaks Police Department to work together with the citizens of this community to make this community a safe place for all its citizens to live.
Crime Alert
Christmas and Criminals
December 6th , 2013
FROM OUR CRIMINAL INVESTIGATION DEPARTMENT (CID)

Tis the season to be jolly, but it is also the season to be wary of burglars, thieves, pickpockets, and other holiday grinches.

Nothing can ruin the Christmas spirit faster than becoming the victim of a crime.

Unfortunately burglars view the holiday season a little differently...for them, it is a time of opportunity to burglarize your home for cash, credit cards, and gifts.

The following are a few strategies that will help you enjoy the holidays without incident.

1. Be extra cautious about locking doors and windows when you leave your house or apartment even for a few minutes.

2. Don't openly display your Christmas tree and gifts in the front window so it's easily visible from the street. It's too tempting for a potential criminal to smash the window and grab the wrapped packages, or plan a later break-in based on their earlier observation.

3. DON'T ADVERTISE...Burglars look for occupancy cues like outdoor lights burning 24 hours a day, piled up newspapers, mail, or advertising flyers hanging on the door knob.

4. Use an inexpensive light timer when you are away and ask a neighbor to pick up your newspapers and mail.

5. If you go out for the evening, turn on lights and a radio or television so the house or apartment appears to be occupied.

6. Burglars know to look for the hidden door key near the front entrance. Don't hind spare keys under rocks, in flowerpots, or above door ledges. Instead give the spare key to a trusted neighbor.

7. Burglars prefer to enter through unlocked doors or windows. A holiday problem can occur when exterior Christmas light extension cords are run inside through a window and prevent it from being secured.

8. After Christmas day, don't pile up empty gift boxes from your new computer, DVD player, or stereo receiver on the street for the garbage man. Burglars appreciate knowing that you have expensive gifts inside for them to steal. Break the boxes down or cut them up to conceal the items better.

9. Christmas is a time of year during which many of us will be busy shopping and running errands in order to be ready for the Holiday Celebration. We must not forget that criminals will also be out and about looking for easy targets to make a big score.

10. Even though you are rushed and thinking about a thousand things, stay alert to your surroundings.

11. Shop before dark if possible. Coordinate shopping trips with a friend. NEVER park in an unlit lot or area, no matter how convenient it is.

12. Lock your packages and gifts in your vehicle's trunk. Keep your vehicle's doors locked and windows closed. This is especially relevant for SUV's

13. Have your keys readily available in your hand before you go to your car.

14. When you return to your vehicle, scan the interior of your car to be sure no one is hiding inside. Check to see if you are being followed.

15. Avoid carrying large amounts of cash, pay for purchases with a check, credit card, or debit card when possible.

16. To discourage purse-snatchers, don't overburden yourself with packages. Have your purchases delivered whenever possible.

17. Be extra careful with purses and wallets. Carry a purse under your arm. Keep a wallet in an inside jacket pocket, not a back trouser pocket.

18. Beware of strangers approaching you for any reason. At this time of year, "con-artists" may try various methods of distracting you with the intention of taking your money or belongings.

Merry Christmas and Happy New Year from the River Oaks Police Department
Crime Alert
Close Patrol
November 5th , 2013
To the Citizens of River Oaks,

Thanksgiving, Christmas, and New Years is just around the corner and if you are planning to go out of town, please contact the police department and put your home on extra patrol. It only takes a few minutes to complete; have the following information when you call or come by the police department. The dates you will be gone, the license plates of the vehicles that will be left behind, if a light will be left on, emergency contact information for someone who can respond if an emergency does arise.
Crime Alert
Scams
November 5th , 2013
Just a reminder to the Citizens from ROPD

During the spring and fall seasons we see an increase in person(s) going door to door offering to do yard work, tree trimming or other manual labor. These persons often appear unsolicited at your door with stories of hardship, poverty or need. They might use the name of a neighbor or local pastor to break the ice however sometimes their motives are anything but honorable and they know your neighbor's name because they just spoke to them trying to run a scam on them! The professional scammers will often times dress neatly and speak professionally. Opportunity scammers, burglars or thieves come in all shapes, sizes and modes of dress.


Here are some crimes that we have seen in the past.

Distraction Thieves

A male and a female walk up to an elderly couple who are working in the yard. The scammers engage the homeowners in conversation about trimming some trees. At some point in the conversation the female asks for a drink of water. The elderly female homeowner allows the female to accompany her into the house. Once inside the house the female asks to use the restroom. While the home owner is getting the water the female slips into the bedroom and back area of the house and steals jewelry and prescription medication.

Down and out looking for work thief

A male scammer is walking the neighborhood knocking on doors asking for work. He claims he will do anything from walking dogs to raking leaves. The homeowner gives the man permission to rake leaves. The man, being "down and out" has no tools and the homeowner allows him access to his garage to use his tools. The scammer steals multiple items out of homeowner's garage while he is supposed to raking leaves.

Inflated price for work scam

A professional looking male approaches an elderly female while she is working in her yard. The man offers to trim some trees in the lady's yard and he quotes her a very low price. The home owner agrees to the price and the man goes to work with tools from his truck. After only doing a small amount of work the man approaches the homeowner and advises that he "ran into some trouble" and she now owes him an exorbitantly over inflated amount of money for the work he did. He accepts her check and goes and cashes it right then.

Work Scams

The work scam is ran using various methods from "roof work" to "driveway repaving" in each case the crook gives the home owner an inexpensive quote for some type of work to be done. During the course of the "Job" where very little or no actual work is done, some problem results in the final bill being three, four or five times more than the original quote. In some cases colored water or some other suspect mixture is applied to a driveway or roof with the idea that it is sealer or some type of quality substance. The crooks in these scams want cash right then. They often times argue and threaten legal action against the homeowner and allow the homeowner to "deal them down" to what is still two or three times the original quote. In some cases the crook has even accompanied the victim to the bank to get their payment!


Solicit personal information and come back later thieves

A male and female crook approaches a home owner while she is working in her yard. They tell her how they are hungry and so are their children, she feels sorry for them. They ask to rake leaves and clean up her yard for money. The female gets her husband and the home owners allow them to rake their yard while the home owner stands outside and watches. The crooks engage the homeowners in conversation and find out that they attend church every Sunday morning. The crooks express an interest in the couple's church and find out the exact times that the home owners are away from home on Sundays. That Sunday the crooks come back and burglarize the couple's home and garage.


Give me a little, I'll take a lot thieves

One door to door sales person convinces a woman who could not see very well to give him a blank check for the small purchase she just made, he even had gained her trust and told her that he would fill the check out for her; the check was then cashed for $2500.

The legitimate solicitor will have a permit from the city and will not mind if you ask to see it. Under no circumstances should you allow a solicitor into your house or tell them personal information about yourself or your neighbors without being sure you are dealing with a legitimate business entity. A simple phone call to the city hall or to the Police Department will allow you to verify if the person is following the rules or not. By simply asking through the door if they have a permit to solicit you let the scammers know that they are at the wrong house! Follow up by telling them that you are going to call the police to verify their permit status. Let us know, and we will take care of the rest!!

We have attached a copy of the city ordinance that deals with soliciting services. It is illegal for someone to solicit work door to door in the city of River Oaks without a permit. Please do not hesitate to contact the police department if you have concerns or suspicions. 817-626-1991


Crime Alert
Permit Ordinance
March 22nd , 2013

ARTICLE 4.02 PEDDLERS, SOLICITORS, AND ITINERANT VENDORS*
Division 1. Generally
Sec. 4.02.001 Permit required
It shall be unlawful for any person to peddle, hawk, sell, solicit or take orders for, or offer to take orders for any services, wares, merchandise or goods, including, but not limited to, magazines and photographs, on the streets and sidewalks, or from door to door within the city without having first obtained a permit therefor from the city.
Sec. 4.02.002 Permit application; contents
Each application for a permit, required by this article, shall be in writing and under oath and shall set out the following information:
(1) Name of the applicant, with his permanent business and residence addresses;
(2) Name and address of the firm or person he represents;
(3) The kind, type and character of goods or services he proposes to offer for sale;
(4) Names and addresses of five persons as references;
(5) How often the applicant will solicit during the year;
(6) The names of any cities where applicant has worked within the previous thirty days;
(7) Whether or not applicant has ever been convicted of a felony or a misdemeanor involving moral turpitude, or any violation of any ordinance regulating public solicitation.


News
Police Officer Position
December 6th , 2013
Police Officer

Job type: Full-Time
Compensation: Starting salary $41,000. $41,500 upon successful completion of FTO program, 3 year top out at $44,000 -TMRS Retirement, City paid employee medical and life insurance. Seven paid city holidays and two paid personal days a year. Certification incentive pay, Bilingual incentive pay
Longevity incentive pay. Take home patrol car if the officer resides in the city limits of River Oaks.
Paid Vacation

Job description:

Responsibility for performing law enforcement duties utilizing a community policing philosophy, enforcing state laws, city ordinances, controlling traffic flow and enforcing state and local traffic regulations, performing investigative work and participating in and providing support and assistance to special crime prevention and enforcement programs.

Job Requirements

Education, training, experience:

•Be 21 years of age and be of good moral character.
•Must be a TCLEOSE certified Police office at the time of appointment
•High School diploma or GED
•Must be able to pass a written entrance exam
•Be in good physical condition and be able to pass physical agility testing consisting of ½ mile run, 300 yard dash, one minute maximum push-ups /sit ups, obstacle course and 140lb dummy drag.
•Must have a current Texas driver's license in good standing
•Must pass an extensive background investigation including psychological and drug screen (no convictions/criminal cases pending)
•Must be current on all outstanding debts
•Must be available to work all hours, days, evenings, or nights, weekends, holidays etc.
•Honorable discharge from the armed forces if applicable
•Must be a citizen of the United States
•Must not be addicted to or use illegal drugs
•Must not be addicted to the use of alcohol