Message From Chief Carter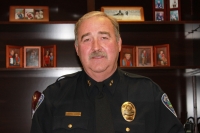 Chief Avin Carter
Welcome to the River Oaks Police Department web site.

The River Oaks Police Dept was established February 14th, 1949, two years after the city was incorporated in 1947. My family moved to River Oaks in 1961 where I graduated from Castleberry ISD in 1972. I have been a part of this community for over 50 years and a member of the River Oaks Police Department for 30 years (1982-2012). River Oaks has had a huge influence on my life and has played a big role of who I am. It has always been important to me and the River Oaks Police Dept to protect the citizens of our community from harm, protect their property from theft or destruction and to preserve the Constitutional rights of every citizen. It is my goal and the goal of the River Oaks Police Department to work together with the citizens of this community to make this community a safe place for all its citizens to live.
Crime Alert
SCAM ALERT
June 19th , 2014
The River Oaks Police Department has been contacted by a local business in regards to receiving telephone solicitation for money for the River Oaks Police Department. We are concerned with this information; the River Oaks Police Department will not solicit for money by telephone. As a citizen, if you receive a call or someone coming to your door, please contact the Police Department to verify the information being given. Anyone soliciting in the City of River Oaks is required to have a permit.



News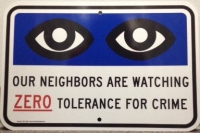 CRIME WATCH SIGNS
August 18th , 2014
Pre-drilled 12' x 18' Metal Signs for Sale now at the River Oaks Police Department. $20.00! All you have to do is hang your zero tolerance for Crime Sign on your garage, fence, car port, in your window or any place else you find to send a message that your neighbors are WATCHING and that your Neighborhood has a ZERO TOLERANCE for CRIME!!!
News
Scams
November 5th , 2013
Just a reminder to the Citizens from ROPD

During the spring and fall seasons we see an increase in person(s) going door to door offering to do yard work, tree trimming or other manual labor. These persons often appear unsolicited at your door with stories of hardship, poverty or need. They might use the name of a neighbor or local pastor to break the ice however sometimes their motives are anything but honorable and they know your neighbor's name because they just spoke to them trying to run a scam on them! The professional scammers will often times dress neatly and speak professionally. Opportunity scammers, burglars or thieves come in all shapes, sizes and modes of dress.


Here are some crimes that we have seen in the past.

Distraction Thieves

A male and a female walk up to an elderly couple who are working in the yard. The scammers engage the homeowners in conversation about trimming some trees. At some point in the conversation the female asks for a drink of water. The elderly female homeowner allows the female to accompany her into the house. Once inside the house the female asks to use the restroom. While the home owner is getting the water the female slips into the bedroom and back area of the house and steals jewelry and prescription medication.

Down and out looking for work thief

A male scammer is walking the neighborhood knocking on doors asking for work. He claims he will do anything from walking dogs to raking leaves. The homeowner gives the man permission to rake leaves. The man, being "down and out" has no tools and the homeowner allows him access to his garage to use his tools. The scammer steals multiple items out of homeowner's garage while he is supposed to raking leaves.

Inflated price for work scam

A professional looking male approaches an elderly female while she is working in her yard. The man offers to trim some trees in the lady's yard and he quotes her a very low price. The home owner agrees to the price and the man goes to work with tools from his truck. After only doing a small amount of work the man approaches the homeowner and advises that he "ran into some trouble" and she now owes him an exorbitantly over inflated amount of money for the work he did. He accepts her check and goes and cashes it right then.

Work Scams

The work scam is ran using various methods from "roof work" to "driveway repaving" in each case the crook gives the home owner an inexpensive quote for some type of work to be done. During the course of the "Job" where very little or no actual work is done, some problem results in the final bill being three, four or five times more than the original quote. In some cases colored water or some other suspect mixture is applied to a driveway or roof with the idea that it is sealer or some type of quality substance. The crooks in these scams want cash right then. They often times argue and threaten legal action against the homeowner and allow the homeowner to "deal them down" to what is still two or three times the original quote. In some cases the crook has even accompanied the victim to the bank to get their payment!


Solicit personal information and come back later thieves

A male and female crook approaches a home owner while she is working in her yard. They tell her how they are hungry and so are their children, she feels sorry for them. They ask to rake leaves and clean up her yard for money. The female gets her husband and the home owners allow them to rake their yard while the home owner stands outside and watches. The crooks engage the homeowners in conversation and find out that they attend church every Sunday morning. The crooks express an interest in the couple's church and find out the exact times that the home owners are away from home on Sundays. That Sunday the crooks come back and burglarize the couple's home and garage.


Give me a little, I'll take a lot thieves

One door to door sales person convinces a woman who could not see very well to give him a blank check for the small purchase she just made, he even had gained her trust and told her that he would fill the check out for her; the check was then cashed for $2500.

The legitimate solicitor will have a permit from the city and will not mind if you ask to see it. Under no circumstances should you allow a solicitor into your house or tell them personal information about yourself or your neighbors without being sure you are dealing with a legitimate business entity. A simple phone call to the city hall or to the Police Department will allow you to verify if the person is following the rules or not. By simply asking through the door if they have a permit to solicit you let the scammers know that they are at the wrong house! Follow up by telling them that you are going to call the police to verify their permit status. Let us know, and we will take care of the rest!!

We have attached a copy of the city ordinance that deals with soliciting services. It is illegal for someone to solicit work door to door in the city of River Oaks without a permit. Please do not hesitate to contact the police department if you have concerns or suspicions. 817-626-1991


News
Permit Ordinance
March 22nd , 2013
ARTICLE 4.02 PEDDLERS, SOLICITORS, AND ITINERANT VENDORS*
Division 1. Generally
Sec. 4.02.001 Permit required
It shall be unlawful for any person to peddle, hawk, sell, solicit or take orders for, or offer to take orders for any services, wares, merchandise or goods, including, but not limited to, magazines and photographs, on the streets and sidewalks, or from door to door within the city without having first obtained a permit therefor from the city.
Sec. 4.02.002 Permit application; contents
Each application for a permit, required by this article, shall be in writing and under oath and shall set out the following information:
(1) Name of the applicant, with his permanent business and residence addresses;
(2) Name and address of the firm or person he represents;
(3) The kind, type and character of goods or services he proposes to offer for sale;
(4) Names and addresses of five persons as references;
(5) How often the applicant will solicit during the year;
(6) The names of any cities where applicant has worked within the previous thirty days;
(7) Whether or not applicant has ever been convicted of a felony or a misdemeanor involving moral turpitude, or any violation of any ordinance regulating public solicitation.